Lawn Maintenance Sterling VA
Lawn Maintenance Services in Sterling Virginia
Landscaping requires routine maintenance to ensure your yard continues to look great even as plants grow and bad weather hits your region. When you need expert, accurate service, trust a professional to deliver the best results!
Riverbend Landscapes offers expert, trustworthy, and convenient lawn maintenance in Burke VA. We are dedicated to helping you maintain your gorgeous landscaping with mowing, trimming, and irrigation services:
Lawn MOwing in Sterling Virginia
Don't let unruly grass diminish your landscaping. Routine mowing is necessary for keeping the grass at the perfect length and to prevent it from intruding where it doesn't belong like your walkways or in your flower beds. Finding the time to mow your entire yard can be challenging in your busy schedule, however. It can be even harder to keep the grass even and end up with the perfect look on your own.
Trust Riverbend to handle the mowing for you! Our experienced mowers will mow the grass around your flower beds, walkways, trees, patios, retaining walls, and more to give you the perfect cut every time. We ensure the grass appears seamless when we finish and cut to your specifications and aesthetic goals.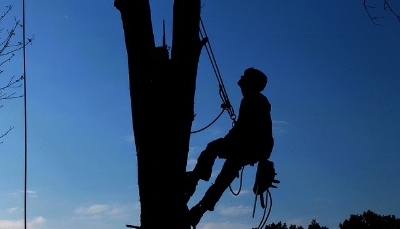 BUsh, Hedge, and Tree Trimming In Sterling VirGinia
Bushes and shrubs begin to outgrow their formerly-trimmed shape and affect your beautiful yard's appearance. Routinely trimming your bushes and shrubs is ideal for maintaining your landscaping vision. Even if you have the time to keep up with bush trimming, you may not be exactly sure how to cut and perfectly maintain the branches on your own. Trusting a professional landscape company in Northern Virginia will ensure you get the perfect trim every time.
Riverbend Landscapes & Tree Service is skilled at pruning and trimming bushes, shrubs, and other plants to help keep your yard looking great and your plants thriving. We properly trim plants to your desired length to keep everything in shape as it should be.
Irrigation System Installation
A healthy, watered lawn is a beautiful lawn. Although watering them yourself appears easy, you may miss crucial areas of your yard, leaving those areas to die. On top of this, you may not have the time to constantly plan when your yard next needs to be watered.
A professionally-installed irrigation system can keep your plants watered without the need to worry! We can install sprinklers in your yard that can be controlled remotely, and can even turn on or off on a set schedule to keep your lawn perfectly watered. We offer easy and accurate installation to give you peace of mind that your lawn and flowers will always remain lush and healthy.
Trust Riverbend Landscape for Lawn Maintenance in Northern Virginia!
We make it easy to keep your lawn, bushes, shrubs, and trees looking lush, healthy, and attractive. We have a passion for creating thriving yards and helping our clients create the perfect outdoor space, both for aesthetics and everyday life. We believe in Honesty, Dependability, Accessibility, and Personal Attention. When you work with us, we make you a crucial part of the process and ensure we are meeting your goals at every step of the way.
Make sure your landscape can thrive for a long time. Contact Riverbend Landscapes & Tree Service for our lawn maintenance services!